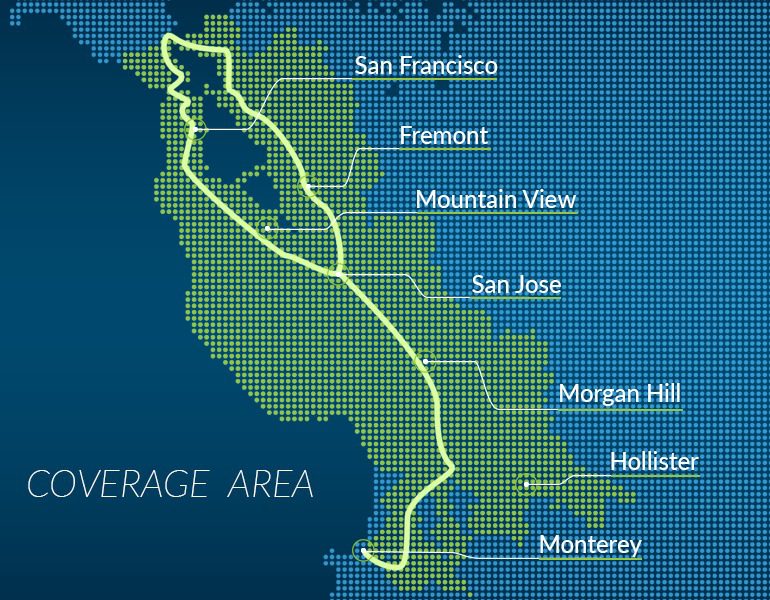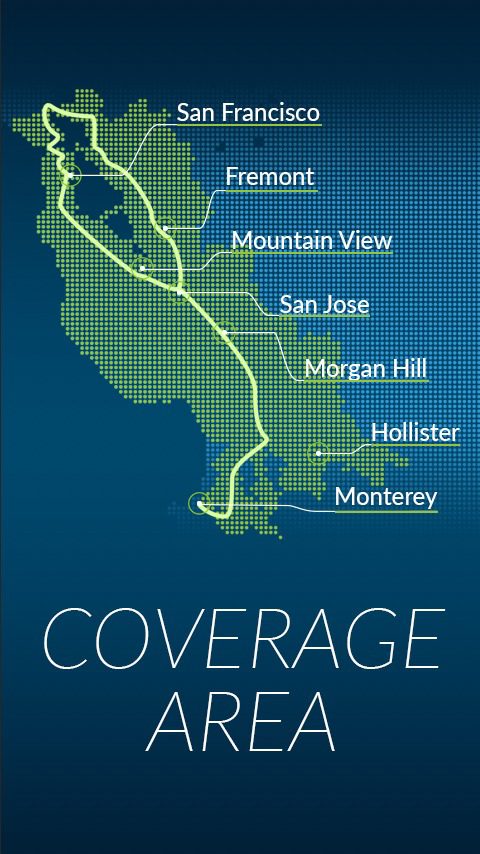 SF Bay Area Cities We Cover
We cover the San Francisco Bay Area of California. Coverage maps do not guarantee coverage, but rather approximate your anticipated coverage at a particular location. Certain parts of a residential or commercial structure, city, metropolitan area or other geographic regions may have limited or no Line of Sight coverage.
Various factors (e.g., terrain, foliage, weather/atmospheric conditions, building structure/materials), many of which are beyond Etheric's control, may affect your actual coverage at a particular location at any given time.
San Francisco Area
San Francisco
South San Francisco
San Bruno
Brisbane
Burlingame
Millbrae
Hillsborough/San Mateo
South Bay
Sunnyvale
Saratoga
Los Gatos
Saratoga
San Jose
Cupertino
Santa Clara/Campbell
East Bay
Fremont
Hayward
Newark
Union City
San Leandro
PENINSULA
Foster City
Redwood Shores
Belmont
San Carlos
Redwood City
Atherton
Woodside
South Bay
Morgan Hill
Gilroy
San Martin
Hollister
Milpitas
Aromas
Prunedale
East Bay
Alameda
San Lorenzo
Oakland
Berkeley
Emeryville
Peninsula
Portola Valley
La Honda
Menlo Park
Palo Alto
Los Altos
Los Altos Hills
Mountain View
Santa Cruz
Boulder Creek
Felton
Scotts Valley
Santa Cruz
Aptos
Corralitos
Watsonville
East Bay
San Lorenzo
Castro Valley
Sunol
Livermore/Dublin
Pleasanton
Want to talk to someone? Ready to set up a Site Survey?
Do you offer service in Rural areas?
Yes. With Etheric Networks, we bring the power of High-Speed Internet access directly to rural areas. While you may be in our coverage area, we can survey your location to determine if your specific business or residence is covered.
At Etheric Networks, we're proud of our extensive coverage area and high-quality service. Etheric Networks is a premier provider of the high-speed broadband internet for residential and business clients.
Set up a site survey and Get started!